Exterior Painting in Allendale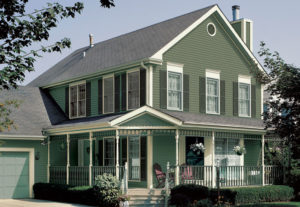 The exterior painting of your Allendale home or business is the first thing people see when they come to visit. Though over time, the weather and other elements can chip, crack and fade your exterior paint. When this happens, it's a good idea to give your home or business a face lift with a new paint job. Or maybe you are looking to change that undesirable exterior color you currently have. Whatever the reason, we have been painting Allendale houses and commercial properties for many years. We have the knowledge and expertise needed to provide a high quality exterior paint job. We are a premier provider in painting services in the area. An exterior painting project involves many steps. The first step involves an inspection of the exterior to assess any repairs that need to be made. The next step involves prepping, which includes a power washing to clean the surface. Scraping and sanding may be involved to remove loose, cracked or chipped paint. Then, areas are masked off to protect them from overspray. Once this is complete, the painting can begin.
Call today for a FREE Estimate: 201-614-3000
Choose a finish for your Exterior Paint
There are different types of exterior paints to choose from. Depending on the type of siding you currently have, one might work better than another. In addition, you will need to choose a paint finish. Below are 3 popular paint finishes that can be used for your painting project. Satin A satin finish paint is a good choice for the exterior of homes and businesses. It provides a low gloss finish that is easy to maintain. Flat Flat paint works well on older homes when coverage is a concern. Though because of its non-glossy surface and porous nature, it is harder to keep clean. Gloss A gloss finish is durable and the most easy to maintain. A semi-gloss finish may work well to provide coverage and durability without reflecting too much light
Call the experts for your exterior painting project in Allendale
We know what we are doing and can assist you with your exterior painting decisions.We offer FREE estimates and will come to your Allendale home or business to provide a detailed consultation. Let us help you get the job done right. Our prices are reasonable and your satisfaction is guaranteed.    
Facts about Allendale, NJ from the town's website.
The approximately three square miles that are known today as Allendale were part of a vast wilderness known only to the native American Indians until the early 1700′s when a few adventurous settlers began to carve out farms and build homesteads in the vicinity. Allendale was then part of the Ramapo Tract, 42,500-acre parcel on land controlled by the East New Jersey Board of Proprietors. The Proprietors were largely old-world real estate speculators and many of them never set foot on the American land they controlled.
Some of Allendale's earliest settlers included family's names Lauback, Van Houten, Vanderbeek, Garrison, Storms, Winter, Wilson, Pulis, Smith, Van Blarcom, Crouter, Ackerman, Powell, Quackenbush, Zabriskie, Christopher, Van Horn Mallinson and Fell.
Officially part of New Barbadoes Township since 1693, in 1767 Allendale (and a large surrounding territory) became Franklin Township. In 1849, a large section of Franklin Township, including part of Allendale, became Ho-Ho-Kus Township. In April 1885, this area was divided and part of it, including much of present day Allendale, was called Orvil Township. In 1894, Allendale residents voted 100 for and 11 against the establishment of a new borough, which was formed from parts of Franklin, Ho-Ho-Kus and Orvil Townships. Two years later, Allendale had its own new schoolhouse (which was later Allendale's Police Headquarters, until torn down in 2005) at a building cost of $5,500.
Until 1767, the Allendale area was part of a "precinct" or a large area with no official local government. When a locality name was used for the area, it was usually linked to a nearby landmark. Thus, John Fell, a well-known Bergen County patriot, and a member of the Continental Congress, whose home still stands at 475 Franklin Turnpike in Allendale, was said to live in Paramus or roughly within the jurisdiction of the Paramus Church. During the Revolution, because of his patriotic influence. Fell was taken prisoner at his home by a band of 25 armed Loyalist raiders on April 22, 1777, and confined in the provost jail in New York City for more than a year.
During the first half of the 19th century, our area was known at "The Turnpike," taking its name from the newly chartered toll road running through the settlement—Franklin Turnpike. It was chartered as a toll road in 1806 and was once part of the Albany Post Road. A toll gate house once stood on the southwest corner of the intersection of Franklin Turnpike and Crescent Avenue (it's well house still stands today).
Allendale, at this time, was a farming community; farmers raised large amounts of fruit, including apples and peaches (hence Orchard Street), but Allendale became well-known for its strawberries, which were shipped in huge quantities to nearby markets in Paterson, Newark, and New York by horse-drawn wagons at first and later by train.
The railroad came to Allendale in the 1840′s with planning, surveying, and construction continuing from 1841 until October 1848 when the first train ran through town. Its route through this area was surveyed by Jospeh Warner Allen, an engineer from southern New Jersey. While working here, he stayed with the Ackerman family in the old Fell House on Franklin Turnpike. When a name was needed for the depot, his name was incorporated into "Allendale."
With the coming of the railroad, Allendale's first stores opened. Smith Roswell, who came to Allendale as the Erie's first station agent, opened what was probably Allendale's first store around 1850. Later, Charlie May and Morris S. Ackerman ran stores in the corner of the hotel.
J. Smith operated a saw mill near Crescent Avenue-Brookside Avenue intersection by 1861, and Henry Mallinson ran a blacksmith and wagon shop at the intersection of Allendale Avenue and Franklin Turnpike. Later, John J. Van Horn ran a blacksmith shop and cider mill on Franklin Turnpike.
Peat was mined in 1866 and 1867 by John J. Zabriskie in the meadows of Allendale, once known as Wolf Swamp (an Indian gathering place)—later known as Appert's farm or the Celery Farm. Around 1880, Albert Lydecker erected a grist mill on the Ho-Ho-Kus Brook near West Crescent Avenue, and Hopper Yeomans ran a traveling butcher shop carrying meats and vegetables by wagon to customers. Additionally, R.V. Ackerman ran his general store on Park Avenue near the Erie Depot, and Abraham Rowland opened another general store on Cottage Place. Still, another grocery store opened near the center of what is today's business district. After a series of partnerships and name changes, it became known as Winter Brothers' Store, later changing from groceries to strictly hardware.
By 1859, the railroad began to bring its first commuters to the area. New Yorkers looking for the healthy country life began to settle in Allendale and its neighboring towns. Some wealthy city people established summer homes here, and others came to vacation. By the 1880′s, Allendale gained a reputation as the "Newport of Bergen County." One of the most influential newcomers was Oliver Hazard Perry Archer, a former Erie Railroad Vice President, who made Allendale his summer home in 1869.
That same year became the beginning of the end of the strawberry frenzy in Allendale. Farmers began to realize that their farmland could bring them more money when sold as building sites than it did when planted with crops. In 1868, Herman Tallman and Harvey Sherwood brought a 34-acre-tract from John A. Garrison and his wife, Dolly. They subdivided the tract into building plots and laid out streets including Park Avenue, Mallinson Street, and First Street; hence Allendale's first real estate "development" was born. About the same time, Daniel Anthony cleared approximately 100 acres along two streets, Anthony Street (now Brookside Avenue) and Allendale Avenue and created 120 building lots, which he offered for sale between $50 and $100 each.
Allendale's two oldest churches were also established about this time. The Episcopal Church of the Epiphany grew from a Sunday school started in 1872 in the home of Mrs. Stephen Cable (old Fell House) and her daughter, Mrs. James Reading. In 1875, O.H.P. Archer built the Archer United Methodist Church.
Telephones came to the area in 1879 when the first exchange opened in Paterson with 11 subscribers. Allendale's first phone in 1897 was a pay station in R.V. Ackerman's store.
In 1902, the depot, which stood on the east side of the tracks, was moved to its present location on the west side of the tracks. In December 1903, four tracks, instead of the previous two, were put into operation. By about 1911, the North Jersey Rapid Transit Company ran a trolley through Allendale.
The next two decades brought a new look to what became Allendale's business district–the stretch of West Allendale Avenue just east of the railroad station. What had formerly been a residential section with streets lined with homes was changed to a commercial area with stores and storefront buildings. Some of the houses were converted into stores, and others were torn down or moved to nearby streets. By 1930, the business district looked much the way it does today.