Exterior Painting in Saddle Brook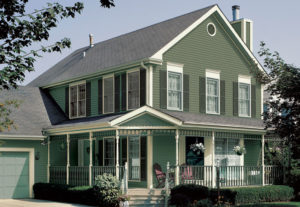 The exterior painting of your Saddle Brook home or business is the first thing people see when they come to visit. Though over time, the weather and other elements can chip, crack and fade your exterior paint. When this happens, it's a good idea to give your home or business a face lift with a new paint job. Or maybe you are looking to change that undesirable exterior color you currently have. Whatever the reason, we have been painting Saddle Brook houses and commercial properties for many years. We have the knowledge and expertise needed to provide a high quality exterior paint job. We are a premier provider in painting services in the area. An exterior painting project involves many steps. The first step involves an inspection of the exterior to assess any repairs that need to be made. The next step involves prepping, which includes a power washing to clean the surface. Scraping and sanding may be involved to remove loose, cracked or chipped paint. Then, areas are masked off to protect them from overspray. Once this is complete, the painting can begin.
Call today for a FREE Estimate: 201-614-3000
Choose a finish for your Exterior Paint
There are different types of exterior paints to choose from. Depending on the type of siding you currently have, one might work better than another. In addition, you will need to choose a paint finish. Below are 3 popular paint finishes that can be used for your painting project. Satin A satin finish paint is a good choice for the exterior of homes and businesses. It provides a low gloss finish that is easy to maintain. Flat Flat paint works well on older homes when coverage is a concern. Though because of its non-glossy surface and porous nature, it is harder to keep clean. Gloss A gloss finish is durable and the most easy to maintain. A semi-gloss finish may work well to provide coverage and durability without reflecting too much light
Call the experts for your exterior painting project in Saddle Brook
We know what we are doing and can assist you with your exterior painting decisions.We offer FREE estimates and will come to your Saddle Brook home or business to provide a detailed consultation. Let us help you get the job done right. Our prices are reasonable and your satisfaction is guaranteed.    
Facts About Saddle Brook, NJ from Wikipedia
Saddle Brook is a township in Bergen County, New Jersey, United States. As of the 2010 United States Census, the township's population was 13,659,[8][9][10] reflecting an increase of 504 (+3.8%) from the 13,155 counted in the 2000 Census, which had in turn declined by 141 (-1.1%) from the 13,296 counted in the 1990 Census.[19]
Saddle Brook operates within the Faulkner Act (formally known as the Optional Municipal Charter Law) under the Mayor-Council system of municipal government (Plan 2), implemented by direct petition as of January 1, 1991,[44] after voters approved a referendum supporting the change in June 1990.[45] The township is governed by a Mayor and a five-member Township Council. Members of the Township Council are elected at-large in partisan elections to four-year terms of office on a staggered basis, with either two seats (plus the mayoral seat) or three seats up for election in even-numbered years as part of the November general election.[6]
As of 2017, the Mayor of Saddle Brook is Democrat Robert D. White, whose term of office ends December 31, 2018. Members of the Township Council are Council President Karen D'Arminio (D, 2018), Todd J. Accomando (D, 2018), Andrew Cimiluca (R, 2020), David Gierek (D, 2020; appointed to serve an unexpired term) and Florence Mazzer (D, 2020).[3][46][47][48][49]
Exterior Painting Contractor in Saddle Brook, NJ 07663