Exterior Painting in Closter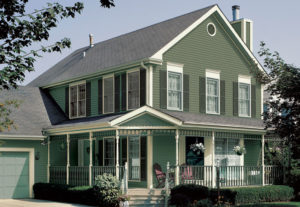 The exterior painting of your Closter home or business is the first thing people see when they come to visit. Though over time, the weather and other elements can chip, crack and fade your exterior paint. When this happens, it's a good idea to give your home or business a face lift with a new paint job. Or maybe you are looking to change that undesirable exterior color you currently have. Whatever the reason, we have been painting Closter houses and commercial properties for many years. We have the knowledge and expertise needed to provide a high quality exterior paint job. We are a premier provider in painting services in the area. An exterior painting project involves many steps. The first step involves an inspection of the exterior to assess any repairs that need to be made. The next step involves prepping, which includes a power washing to clean the surface. Scraping and sanding may be involved to remove loose, cracked or chipped paint. Then, areas are masked off to protect them from overspray. Once this is complete, the painting can begin.
Call today for a FREE Estimate: 201-614-3000
Choose a finish for your Exterior Paint
There are different types of exterior paints to choose from. Depending on the type of siding you currently have, one might work better than another. In addition, you will need to choose a paint finish. Below are 3 popular paint finishes that can be used for your painting project. Satin A satin finish paint is a good choice for the exterior of homes and businesses. It provides a low gloss finish that is easy to maintain. Flat Flat paint works well on older homes when coverage is a concern. Though because of its non-glossy surface and porous nature, it is harder to keep clean. Gloss A gloss finish is durable and the most easy to maintain. A semi-gloss finish may work well to provide coverage and durability without reflecting too much light
Call the experts for your exterior painting project in Closter
We know what we are doing and can assist you with your exterior painting decisions.We offer FREE estimates and will come to your Closter home or business to provide a detailed consultation. Let us help you get the job done right. Our prices are reasonable and your satisfaction is guaranteed.    
History of Closter, NJ from Wikipedia
The Lenni Lenape Native Americans tilled the soil, hunted in the woods, and fished in the rivers and streams before the Dutch arrived in the early 18th Century. The Dutch settlers, though, left an indelible mark on the area. Early records show that after the English takeover of New Netherland, English Governor Philip Carteret in 1669 granted a real estate speculator named Balthaser De Hart a strip of property which extended east and west from the Hudson River to the Tiena Kill, and north and south from today's Cresskill into Palisades, New York.[23] It is within these geographical boundaries that lies what is now known as Closter. The first land grant deed for the area today known as Closter was not written until April 13, 1671.[24] The northern half of this tract of land consisting of 1,030 acres (420 ha) (extending from what is Closter Dock Road northward) was purchased by Barent and Resolvert Nagel on April 25, 1710,[25][26] who along with the Vervalen family first settled what is now Closter.
The name Closter is of Dutch origin and first appears in 1745, when Arie Arieaense purchased "A certain tract of land lying on Tappan in Orange County and in the province of New York at a certain place called Klooster"[27] (At that time, Closter was considered part of New York State). In the Dutch language, Klooster means "a quiet place, a monastery or cloister."[28]
The name was originally pronounced with an "ow" sound, phonetically, "Klowster."[citation needed]
The topography gave a sense of isolation and protection, tucked behind the highest point of the Palisades and protected by limited access. Alternatively, sources indicate that the name derives from an early settler named Frederick Closter.[29][30] Claims have been made that Frederick Closter is a myth that dates back to the 1940s.[citation needed]
Later, just before the American Revolution, these isolated settlers began to feel the imposing hand of the British Crown in their lives – not only in governmental affairs but also by the influx of English culture upon their own language and culture. And as a result the "K" in Klooster was dropped and was replaced with a "C" so the now growing village became known as Clooster.
By 1795, with the emerging new American culture, the second "o" in Clooster was dropped, and the American English "long o" sound was adopted which led to today's pronunciation of Closter.[20]
Reminders of Closter's early Dutch history abound – with local streets named after some of the early families (Bogert, Demarest, Durie, Naugle, Parsells, Vervalen, Auryansen, Haring, and Westervelt), and a rich collection of unique Jersey Dutch houses.[31]
The arrival of the Northern Branch in 1859,[32] followed by additional train service from what became the West Shore Railroad, brought residents to the community who could commute to Manhattan via the ferry across the Hudson River at the railroad's Weehawken depot.[33] Closter's central location earned it the nickname "Hub of the Northern Valley".[34]
Closter was formed as an incorporated municipality by an act of the New Jersey Legislature on January 1, 1904, from portions of Harrington Township. On March 29, 1904, Harrington Park was created from portions of Closter, Harrington Township and Washington Township.[35][36]
After the turn of the 20th century, Closter changed from being sprawling estates and farms into an upper middle class suburban town.[33]
Exterior Painting Contractor in Closter, NJ 07624