Exterior Painting in Glen Rock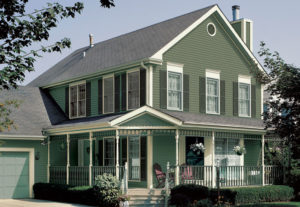 The exterior painting of your Glen Rock home or business is the first thing people see when they come to visit. Though over time, the weather and other elements can chip, crack and fade your exterior paint. When this happens, it's a good idea to give your home or business a face lift with a new paint job. Or maybe you are looking to change that undesirable exterior color you currently have. Whatever the reason, we have been painting Glen Rock houses and commercial properties for many years. We have the knowledge and expertise needed to provide a high quality exterior paint job. We are a premier provider in painting services in the area. An exterior painting project involves many steps. The first step involves an inspection of the exterior to assess any repairs that need to be made. The next step involves prepping, which includes a power washing to clean the surface. Scraping and sanding may be involved to remove loose, cracked or chipped paint. Then, areas are masked off to protect them from overspray. Once this is complete, the painting can begin.
Call today for a FREE Estimate: 201-614-3000
Choose a finish for your Exterior Paint
There are different types of exterior paints to choose from. Depending on the type of siding you currently have, one might work better than another. In addition, you will need to choose a paint finish. Below are 3 popular paint finishes that can be used for your painting project. Satin A satin finish paint is a good choice for the exterior of homes and businesses. It provides a low gloss finish that is easy to maintain. Flat Flat paint works well on older homes when coverage is a concern. Though because of its non-glossy surface and porous nature, it is harder to keep clean. Gloss A gloss finish is durable and the most easy to maintain. A semi-gloss finish may work well to provide coverage and durability without reflecting too much light
Call the experts for your exterior painting project in Glen Rock
We know what we are doing and can assist you with your exterior painting decisions.We offer FREE estimates and will come to your Glen Rock home or business to provide a detailed consultation. Let us help you get the job done right. Our prices are reasonable and your satisfaction is guaranteed.    
Facts About Glen Rock from Wikipedia
Glen Rock is a borough in Bergen County, New Jersey, United States. As of the 2010 United States Census, the borough's population was 11,601,[9][10][11] reflecting an increase of 55 (+0.5%) from the 11,546 counted in the 2000 Census, which had in turn increased by 663 (+6.1%) from the 10,883 counted in the 1990 Census.[20]
Glen Rock was formed on September 14, 1894, from portions of Ridgewood Township and Saddle River Township, "that being the year the county went crazy on boroughs".[21][22] The borough was formed during the "Boroughitis" phenomenon then sweeping through Bergen County, in which 26 boroughs were formed in the county in 1894 alone.[23] The main impetus for the break from Ridgewood Township was the decision to have Glen Rock students attend a new school closer to the center of Ridgewood instead of their one-room schoolhouse located at the intersection of Ackerman Avenue and Rock Road.[24]
Glen Rock was settled around a large boulder in a small valley (glen), from which it gets its name.[25][26] The boulder, a glacial erratic weighing in at 570 short tons (520 t) and located where Doremus Avenue meets Rock Road, is believed to have been carried to the site by a glacier that picked up the rock 15,000 years ago near Peekskill, New York and carried it for 20 miles (32 km) to its present location. The Lenape Native Americans called the boulder "Pamachapuka" (meaning "stone from heaven" or "stone from the sky") and used it for signal fires and as a trail marker.[24][27][28]
The borough was the site of one of Bergen County's most serious public transportation accidents. In 1911, a trolley operator for the North Jersey Rapid Transit Company, one day away from retirement, died in a crash with an opposing trolley around the intersection of Prospect and Grove Streets that was caused by signal problems. In addition to the death of the opposing trolley operator, 12 people were injured. This crash in part hastened the demise of this transportation mode which ran from Elmwood Park, New Jersey to Suffern, New York and competed with the Erie Railroad. The right of way for this trolley line was purchased by the Public Service Enterprise Group and is still visible today.[29][30]
Exterior Painting Contractor in Glen Rock, NJ 07452